It's not as simple as analyzing your ROI to track your content marketing performance; you'll need content marketing KPIs.
Content marketing necessitates time, effort, and consistency by its very nature. As a result, performance analysis is a difficult and sometimes ignored procedure.
That will come to an end today.
The finer points distinguish a decent content marketer from a great content marketer. This usually entails knowing what to measure and how to use the data to improve your efforts. Simply said, understand your content marketing KPIs!
It can't be handled if it can't be measured.
I've tracked (what it feels like) a thousand different KPIs as a seasoned SEO specialist. However, after years of measuring (almost) every measure on the internet, I've narrowed my content marketing metrics to the few on this list.
I can learn more about my audience, forecast results from nearly any piece of material, and, most importantly, consistently improve my game using the data from these analytics (and my content marketing return).
It's now your turn.
In this post, I'll discuss the most effective content marketing KPIs and send you the right way so you can track your content's performance.
The importance of content marketing KPIs
Whether you're building a personal brand or a large corporation, content marketing is a commercial activity. This needs to be a defining component in your thoughts.
Business actions are only worthwhile if they result in a profit for the company.
This entails defining your objectives, comprehending how content marketing fits into those objectives, and tracking your progress toward those objectives.
Only 12% of bloggers say they check their analytics 'never/rarely,' while 32% say they do it 'often.' And 70% of bloggers make no money whatsoever from their websites.
The beauty of content is that it checks a lot of boxes. Content has the ability to:
Increase awareness
Increase your audience size
Obtain leads by generating traffic
Convert customers into buyers
And there's a lot more
Before we get into the content marketing KPIs, you need to determine what you want the content to accomplish for your company.
This entails recognizing your digital objectives, developing a clear plan, and deciding the content methods to get you there.
KPI is for key performance indicators, by the way. These are the most important metrics to consider when evaluating your success.
You're ready to track content KPIs and optimize your performance once you've determined your goal.
The crucial ingredient
You'll need the right software before you can track anything.
A platform like WordPress and not Medium can help you gather more data.
Suppose your content strategy is primarily built on social networking, YouTube, or podcasts. In that case, I propose attempting to post content on your website (content may be simply imported from these sites or integrated on your site), as well as utilizing specialized analytics tools, such as:
Studio on YouTube
Instagram Metrics (for business accounts)
Connect to iTunes Podcasts
However, Google Analytics is the clear winner when it comes to your website.
Google Analytics is a free, effective tool that provides content marketers with vital data.
Short of sounding like a paid salesperson for Google Analytics (which you shouldn't because it's a free tool), it's one of the first things you should set up after establishing a new website. Make sure you have the right analytics software for your content type installed. It's the only way you'll be able to track and optimize your content marketing KPIs.
The content marketing KPIs
Our KPIs have been divided into larger categories to make it easier for you to access the information that's most essential to you.
Start by reviewing our list and creating your own content marketing KPI document.
Traffic
The term "traffic" refers to the number of people who visit your website. High traffic ratings mimic effective content marketing methods, but as you'll see, it's not quite that straightforward. You'll need Google Analytics installed and connected to your website for this analysis.
There are a variety of techniques to track traffic as KPIs, but here are a few of the most useful:
1. Users
Google Analytics – Acquisitions > Overview is where you'll find this KPI.
The simplest method to use views as a KPI is to track it all at once. This score will display how many visitors your website is attracting.
Set intervals and track your statistics for each – for example, every 30 days.
Views are a solid indicator of your website's overall popularity, but it doesn't tell you much about the performance of your content – especially if you're doing other things to attract new people (E.g., advertising)
2. Unique page views
The amount of visitors your material receives is one easy indicator of its success. Look at your daily, weekly, or monthly unique page views to see how many people are accessing your page.
3. Traffic by Pages and Screens
Google Analytics: Engagement > Pages and screens
This measure indicates the page from which visitors arrived at your website, providing significant insight into your most important entry points.
This is a particularly effective content marketing KPI because it will show you which content brings the most traffic to your site and which themes and pages are the most valuable. You can increase the number of visits to your website by learning what attracts them.
4. Users by the time of day
KPI Location: Google Analytics – Home
It's critical to understand when the best time is to publish information.
Test different days and times for posting until you have enough data to properly grasp your audience's preferences. Every month, keep note of the most popular hours and days.
5. Returning users
KPI Location: Google Analytics – Retention
Successful content attracts 'Returning Users,' or visitors who have already visited your website and are eager to return.
Every month, you must track and measure this. If you can entice people to return frequently, your website (and traffic) will expand considerably faster.
If this number does not rise month after month, you should do a complete evaluation of your material. Your content isn't doing its job when people don't come back.
6. Traffic acquisition
KPI Location: Google Analytics – Acquisition > Traffic acquisition
This content marketing KPI illustrates the amount of traffic that each of your six key traffic sources has contributed to your site: organic, direct, social, referral, email, and others.
This is a crucial metric since it allows you to assess the effectiveness of your content strategies and adjust accordingly.
Analyze your best and worst-performing sources with this breakdown. Find out where you can improve and what has succeeded in the past.
Measure the effectiveness of your efforts in terms of traffic scores, for example, if you're investing a lot of time and money into Facebook ads.
7. Geography
Understanding where your material is viewed is critical for determining where more funding and resources should be allocated based on your audience's location. Google Analytics gives page-level specifics of such geographic data, allowing content marketers to optimize for the geographic regions (or geos) most essential to their organization – and its bottom line.
8. Mobile readership
If you know how many unique visitors (or readers) your content receives, that's fantastic. However, how are they consuming your content? Is it true that half of them use mobile devices, as shown by the most recent content consumption study? What kind of mobile devices do they have?
Understanding how your information is presented to multiple devices and how to improve your content and design (i.e., responsive design) for future releases is critical.
User behavior/Engagement
It's time to delve deeper into performance and discover how it relates to your audience once you've mastered the traffic KPIs.
The best method to find out what your audience thinks of your material is to look at how they interact with it. Reading your material will give you a comprehensive view of your content's success, important distribution methods, and visitor behavior.
Not everyone is a potential customer.
The way people behave is quite important. As a content marketer, I'd rather have 20 members of my target demographic visit my site than 1,000 uninterested strangers.
This section's content KPIs disclose the metrics that track how well you're attracting the proper kind of visitors and provide insight into the user experience of your content.
Here are some of the main user behavior indicators you should track monthly.
9. Engagement rate
KPI Location: Google Analytics – Acquisition > Traffic acquisition
The engagement rate indicates how many people leave your website without further action.
A 'bounce' occurs when someone sees one page on your website and then leaves without clicking or visiting another.
The bounce rate can measure your content's success in persuading visitors to take additional action.
You will have less time spent if your write blogs without urging readers to take action (such as reading something else, visiting another website, or viewing a product).
You must strive to retain visitors to your website for as long as possible as a content marketer (further exposing them to your brand).
For each traffic source, keep track of the KPI metrics listed above. This will help you learn how each source interacts with your content and which areas need the most attention.
10. Average engagement time
KPI Location: Google Analytics – Engagement > Pages and screens
The average engagement time spent on the page indicates how much time visitors spend reading your material. You must try to increase this number with high-quality content every month.
The more time your audience spends on your content pages, the more successful you are.
If your time on page numbers is low, your site is slow to load, your content isn't meeting your visitor's expectations, or your site isn't appealing to them.
11. Path exploration
KPI Location: Google Analytics – Explore
Even though this metric is tough to track, I constantly keep an eye on it. The path exploration depicts how your audience interacts with your website. This can be utilized to see if your visitors are heading on the right path and how they're interacting with your site.
12. Heat maps and clicks patterns
Many tools are available that show how your audience interacts with a page and its content. CrazyEgg is one application that lets you construct heat maps to determine which parts of a website garner the most attention. When it comes to revamping a website age, this is a useful KPI.
In-page analytics, such as Google Analytics, can also measure click patterns and scrolls. Such data is essential for determining what is relevant to your target audience and optimizing content and design depending on your findings.
13. Downloads
Because downloads imply a high level of interest in your work, they can give you even more information about its popularity (rather than the effort required to skim through a blog post, your reader most likely had to fill out a form to download).
14. Internal links
Internal linking, when done correctly, has the ability to increase your traffic enormously. It aids in SEO, but more importantly, it allows visitors to easily navigate around your sites.
Internal links can be CTAs that direct visitors to service or sales pages, or they can simply be links to related information. In any event, when readers click the links incorporated in your material, it signifies they want to learn more about the issue or are thinking about becoming your clients.
Avoid broken links or single landing pages that limit the website's user experience.
Set up numerous landing pages for high-ranking keywords and include internal links to entice people to continue reading.
15. Backlinks
Are there any links pointing to your website? This indicates that your material is gaining credibility. When other websites regard you as an authority, your site's traffic will improve, and you'll increase the search ranks.
Social performance
Your website's content isn't the only place where it may be found. Content marketing includes distributing, publishing, and marketing on social media platforms.
Remember that a simple Facebook post and an Instagram-curated video are both examples of content marketing. Although they are easier to make than a video or a long-form blog piece, their performance is still an important KPI to monitor.
4.14 billion of the world's 4.66 billion active internet users are also active social media users.
Every post you make on social media is a reflection of your company. Therefore you must track how well they work.
Some of the most important social media content KPIs are to track every month.
16. Followers (segmented)
KPI Location: Social profile/Social network analysis
Your material's quality significantly impacts the number of people who follow you on social media. Every month, keep track of your follower numbers (for each platform) to figure out where and why your content is working best.
Because different demographics prefer different social networks, analyzing your social follower numbers on each site can help you figure out where your content is drawing the most potential clients. Although using social followers as a KPI may seem obvious, you'd be shocked at how few organizations track or set goals for metrics like this. Don't get caught in this trap.
17. Engagement rate (segmented)
KPI Location: Social Network Analytics/Insights
The level of engagement with a piece of content is a good indicator of its success. Your engagement rate is calculated by multiplying your total number of followers by the number of comments, shares, and likes you receive on each platform.
For example, if my post obtains 100 likes, 10 comments, and 20 shares, it has a total engagement of 130. My engagement rate is ten percent if I have 1300 followers.
Make a point of segmenting your engagement rate by platform, as this will reveal where your audience is most receptive and where your content is best suited.
18. Native social shares (segmented)
KPI Location: Website share counted plugin
Share buttons are on our (natively hosted) blog entries and podcasts.
Social shares are the digital equivalent of word-of-mouth, serving as a recommendation, building social proof, and expanding your organic reach. To keep track of your performance, add up your shares each month.
Competitor analysis & comparison
A major trackable statistic understands your role in the larger digital environment (and probably my favorite data to watch).
I've used a variety of tracking sources in the past, but I've narrowed it down to the two that I consider the most useful.
I still use other tools, but I use them for competitor analysis rather than tracking our success – you can learn more about this in Einstein Marketer's free subscriber training courses – More information is available by subscribing at the bottom of this page…
These are the two content marketing KPIs I monitor every month.
19. Page authority
Website Authority (PA) is a score devised and maintained by marketing analytics business Moz to predict where a certain page will rank on search engine results pages (SERPs). Page authority differs from domain authority, which measures the authority of a website as a whole.
Page authority is also a comparison indicator that allows a website to see how it compares to its competitors.
Pages with low-quality content and untrustworthy spammy links will not get page authority. Quality should be prioritized at all levels of your website.
Filling your website with links is OK, but if they're irrelevant to your content and bring little value, they won't help your page authority score.
Your page's rating will suffer if it is out of date and ignored. Frequent updates, on the other hand, will boost crawl demand.
20. Domain authority
KPI Location: Ahrefs (paid) or Moz (free)
The domain authority is a metric that determines how strong your domain is and how likely it is to rank in search engines.
Websites are graded from 0 to 100, with 100 being the highest (a perfect 100 is nearly impossible to achieve).
This is a critical monthly measure to monitor and improve, so make sure you're checking it. In this Complete Guide to Domain Authority, you can learn more about domain authority and how to enhance it.
Organic/Search performance
Because most consumers use search engines to discover answers, solve problems, and conduct product research, organic/search performance is critical.
Search engine traffic is (generally) highly qualified, interested in your content, and gives good behavioral metrics, not to mention that it's free.
I aim to boost organic traffic month after month, and I've had (nearly) excellent results on the Einstein Marketer website. This is due partly to the creation of evergreen content and a larger marketing effort.
Most websites must raise marketing expenditure to drive more traffic, but if you increase organic traffic month after month, you will reap the same benefits without spending a dime.
Keyword research, link building, excellent content, and on-page SEO methods can all help you boost your organic traffic.
To track your SEO performance, consider the following content marketing KPIs.
21. Total organic traffic
KPI Location: Google Analytics – Acquisition > Overview > Organic
Always track and report your total organic traffic, starting with the most evident metric. This figure represents the total number of visitors who arrived at your site from search engines.
This information is available in Google Analytics.
More free visits = more organic traffic. Optimize for search and keep track of your monthly total.
You can also check your organic traffic on Google Search Console: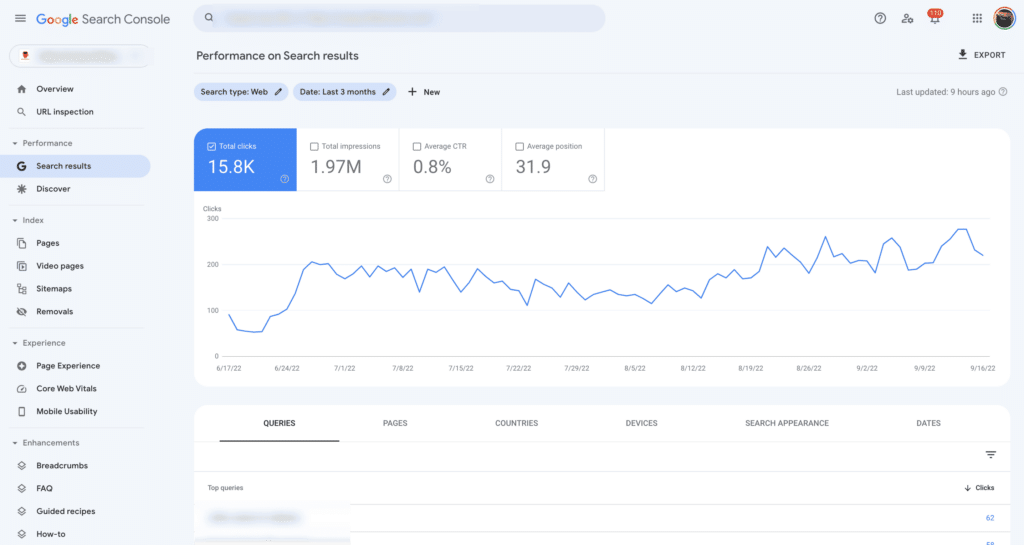 22. Total impressions
KPI Location: Google Search Console
The Google Search Console is a fantastic tool for tracking, optimizing, and improving your search engine performance.
Using this free tool, you can track how many people viewed your results in their search queries (impressions) and analyze the data for each page.
23. Average CTR
KPI Location: Google Search Console
When you know how many people are seeing your content in the SERPs, you should keep track of how many of them are clicking on your link – this is known as a click-through rate (CTR)
A high CTR indicates that the pages are appealing and clickable. A low CTR indicates that your material has a flaw.
Ensure your headlines, meta descriptions, and content are all optimized for new visitors.
If a page has a poor CTR, change the title and meta (without eliminating the keywords) and monitor the results.
You have a better chance of raising your organic CTR if you track it as a content marketing KPI.
Set goals, deploy techniques, and keep track of your progress.
24. Email click-through rate
Any company's content marketing plan should include email marketing. The click-through rate is a useful KPI since it lets you see if people engage with your emails by clicking on the links they include.
The click-through rate provides more accurate information on interaction than open rates, which merely tell you if individuals open your emails. People who click links in emails do so because the correspondence has piqued their interest sufficiently to prompt them to take action. Many email marketing services are available online, most of which track click-through rates.
Goals and conversions
The ultimate goal of content marketing is to help a brand or business succeed, which implies contributing to your funnel's lead and sales generation.
Unfortunately, the effects of content cannot be fully measured because many users will arrive at your website through content, leave and immediately return, be retargeted, or follow you on social media before deciding on a subscription or purchase.
People will listen to you if they like you, but they will conduct business with you if they trust you.
This is why I don't recommend using goals, leads, or conversions as your content marketing KPIs. Yes, they're crucial to your performance, but statistics like these are frequently influenced by content.
Keep track of these figures, but don't become obsessed with them. Remember that while content will generate many of your leads and transactions, this does not always imply that they will come straight from it.
25. Leads by page source
KPI Location: Google Analytics Goals or Opt-in Analytics Tools
Even if it's only a newsletter subscription, 99 percent of your native content should have some form of offer on the page. Lead magnets are the most converting sort of lead generation offer.
These ebooks, checklists, and templates are given out in exchange for the prospect's contact information (check out this post for more ideas). Add these offers to your content and track which pages produce the most leads for your company.
Setting up objectives in Google Analytics, tagging new subscribers by their offer page (albeit this would be a lengthy process), or utilizing an opt-in software can all be used to track this content marketing KPI.
Opt-in solutions that allow you to build pop-up embeds or slide-ins will all come with their analytics tools, which you can use to track these figures as KPIs.
26. Goals (set up in Google)
KPI Location: Google Analytics – Conversions > Goals > Overview
On a more general topic, Google Analytics customers can track whatever objective they wish to set up, including sales, lead sign-ups, account creation, live chat, contact us, and media plays (amongst many more).
These objectives are set up in Google Analytics by doing the following steps:
+New Goal > Admin > View > Goals
The rest of the procedure will be guided by Google.
Use this option to make goals specific to your business, offers, and content marketing.
27. Customer question
KPI Location: Onboarding questions.
Have you ever made a purchase and been greeted with the following message: "How did you hear about us?"
This onboarding inquiry provides crucial information to marketing and sales teams, allowing content marketers to track their progress better.
Learning as much as possible about your leads and customers is critical since this will enable you to personalize future offers/content and improve the customer journey.
Create a dropdown menu of alternatives for your new customers to choose from, and track the percentage of new customers that attribute their initial engagement with your company to your website's social or native content.
Content production metrics
These figures will be used to guide future content creation decisions.
28. Time spent on content creation
You can improve your CM strategy by keeping track of your time developing appealing content. You can engage freelance writers to free up time for other marketing tasks or bring content generation in-house with a team of writers. Knowing how much time goes into creating content will help you evaluate the efficiency of your content creators.
29. Performance over time
During the first week, your article received over 100 shares. So, how's it going after a month? Is it still attracting a crowd? Has your content been created for a specific event or goal? After a week, do you see a decrease in interaction or shares? Begin by identifying the information that will provide the most value to each.
Cost metrics
Don't forget to keep track of how much your content marketing program is costing your company so you can assess its overall effectiveness.
30. Cost per content piece
Track the invoices sent by freelancers to determine the cost per piece. You'll need to add up salary, benefits, and other overhead costs to manage internal spending, which might be difficult to figure out. If you're short on cash, weigh the benefits and drawbacks of outsourcing vs. in-house content creation. Finding the cost per item will help you plan how you'll spend your future content budget.
31. Distribution costs
Amplification of content is necessary to guarantee that it reaches a larger audience. It's important to keep track of this measure so you can figure out how much it costs to promote it on social media and through ad networks.
32. Length of the sales cycle
Great content has the effect of shortening the average time of your sales cycle. To figure out how long it takes to convert leads, you should track the length of your sales cycle. This will assist you in identifying outlets that will assist you in generating leads that close quickly and have a shorter sales cycle. You can prioritize such channels to boost your campaign's return on investment.
Why do content marketing KPIs differ from business to business?
Is your company a B2B? A business-to-consumer e-commerce store? Each company's content marketing goals, client lifecycle, time-to-purchase, and other factors are unique. As a result, the content marketing objectives of a clothing store – for example, purchases via Instagram postings – are vastly different from those of an enterprise SaaS firm.
The purpose of content in a B2B organization is usually to convert prospects into leads and then move them through the sales funnel as quickly as possible, up to the point of conversion (whether that be a purchase or a free trial). In the case of SaaS enterprises, content can also help with post-purchase activation and client retention.
Engagement is crucial for most media companies. Content indicators such as average time spent on each page, the average number of pages visited per visit, and bounce rate becomes more important than more sales-driven KPIs when the goal is to engage advertisers.
B2C content, on the other hand, can help with everything from encouraging repeat visits to drawing back those who have abandoned shopping carts by providing useful, intriguing materials. Social shares may be of higher relevance to marketers in a B2C setting than they would be in a B2B one because B2C material frequently seeks to express more personality than B2B content.
None of these guidelines are set in stone. Just because you're a B2B firm doesn't mean you shouldn't worry about things like time on the page and social shares.
To effectively measure content performance, however, you must identify and choose the most important KPIs for your business and revenue goals. It's impossible to monitor everything (unless perhaps at the largest corporate enterprises), so you should focus your analytics resources on the most important KPIs.
Conclusion
The first step toward optimizing your content marketing plan and increasing your return is tracking, recording, and analyzing your results.
It's just as important to understand where you're weakest as it is to understand what you're doing correctly and why it's occurring.
The more information you have about your target audience, the better you can provide them. Use the data from your KPIs better to understand your audience's wants in content marketing.
The data presented in this article is accurate. Set objectives for yourself and continually strive to outperform your prior performance.