Writing show notes will not just contribute to your site's growth but will also enhance the number of your loyal listeners. It should become an integral component of your workflow.
However, podcast show notes are often overlooked by creators of audio content. It makes sense; podcasts are designed to be listened to, so why bother writing anything down?
After reading this article, you will be convinced to write show notes for your podcast consistently. We also included a format to guide you in writing show notes.
What is podcast show notes?
Show notes for a podcast are a detailed written summary of what transpired during an episode and supplementary resources that expand on the material. The supplementary materials include links to articles discussed in the episode, guest biographies, social media profiles, videos, and calls to action.
What is it for?
Unlike show notes, episode summaries, on the other hand, are brief and to the point. Show notes are more in-depth than the summary, but the summary gives you the flavor. The use of HTML in the episode description box is restricted in some podcast players.
So, you can't send users of the app straight to the articles they were discussing. Instead, compiling it all into a single blog post is the most practical approach to ensure that audience members can return and easily access the material at any time.
How show notes help in increasing traffic
If your show notes are well-written, you could gain a flood of new listeners simply by having them appear in search results. The show notes are made for reading rather than a literal transcription.
The article includes the same helpful information as the audio episode and recommends that readers listen to the podcast for more. The additional value you provide in the podcast — through anecdotes and concrete examples — will attract a new listener.
Reasons why you should show notes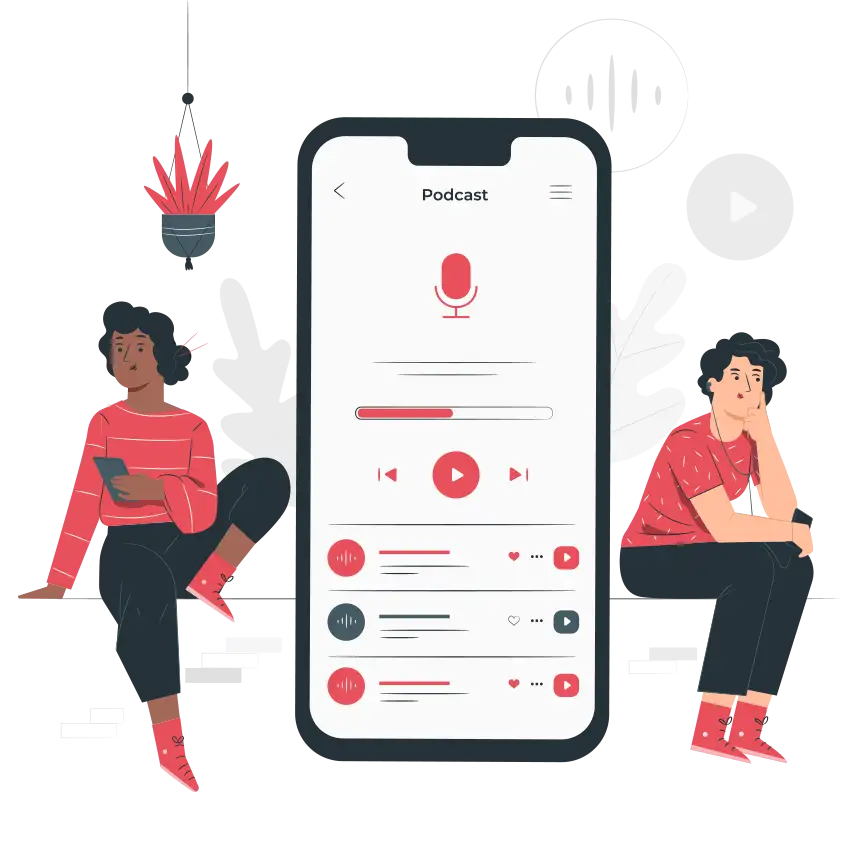 There are numerous reasons to write excellent show notes and to put off doing so. Here are several justifications for why you should create SEO-friendly show notes for each podcast.
It explains what your podcast is all about
Considering that most readers will skim your post's introduction, it's important to highlight the most pertinent information so that readers will want to press play. Your show notes should serve as a synopsis of your podcast, at the very least.
This may be a couple of phrases for some people or an entire paragraph for others. Program titles, episode numbers, and guests should always be listed at the top of the show notes. Your guest's current project is also encouraged to be included.
It is an opportunity to implement a Call to Action (CTAs)
Your show notes are there to add value to your work. Your website's external links should be clicked to open in a new tab. Of course, that is Web Design 101. However, the second objective of your introduction is to give the audience something to do.
It can be used for networking
Your show notes are a great place not to promote yourself and other people's work. It is a great way to network with other people in your field. You can meet experts along the way with show notes.
It can be used to optimize your content for search engine
Include some of your niche keywords in the show notes of your podcast. If a keyword you normally employ isn't pertinent to the episode's topic, leave it out and replace it with others. In doing so, you can reach an entirely new demographic.
In the same way, you would include keywords in a blog post, you can do; the same with your podcast's show notes. After being optimized for search engines, the subtitle and summary of your podcast would then serve as the post's headline and introduction.
It can be used to produce some more high-caliber material
Show notes from a podcast can serve as inspiration for a series of related blog pieces. Although you're duplicating your efforts, you can get many advantages from blogging while reusing the podcast episode.
It can be shared on social and other platforms
The secret to growing your podcast is to enlist the help of your present listeners. The influence of social sharing cannot be understated. By generating podcast show notes, posting them on social media, and including them in your email newsletter, you may greatly simplify this for listeners.
Your listeners will be more inclined to spread the word about your notes to their audiences if they contain thought-provoking quotes or interesting highlights.
Show notes format and template for podcast episodes
Various formats are available to serve as a basis for your show notes. If you cannot find which format suits you, here is our suggestion:
Summary of the episode
Video/player of the episode
Timestamp guide
Full topic guide
Resources mentioned in the episode
The episode's summary should be in bullet or paragraph form for easy reading. Don't forget to embed the episode player; it is the heart of your content. Next, you place a timestamp guide for your listeners to easily skip to or replay their favorite parts.
You should also include a full topic guide, just a blog version of your podcast, to cater to those who would like to read instead of listening. Lastly, credit your sources by mentioning them in the resources section.
1. Summary of the episode
The purpose of the synopsis or summary of the episode is to encourage the reader to continue and listen to the full episode. Clearly illustrating the issue you're addressing is crucial if you want to capture your audience's attention and convince them to pay attention to what you have to say.
A one- or two-paragraph opening or a list of bullet points is a good start when summarizing an episode. This gives the listener an overview of the topics you'll be discussing and can help newcomers decide if they want to stick around.
Include your episode summary and any other information you'd like to share about the episode or your program in the episode notes.
What you should include are the following:
A rundown of the episodes' themes and topics;
Details about the show's guests
Your resources used
Your contact details
An appeal to do something
2. Video/player of the episode
What every podcast host you are using, make sure that you embed the audio player. In addition to providing a convenient listening option for casual site users, this feature also serves as a handy tool for paying members.
Show notes for a podcast, including a preview and player.
3. Timestamp guide
The highlights of the episode are selected, and the times at which they occur in the audio are listed; this is called a timecode summary. It's much easier for casual visitors to find the information they need quickly and easily. And if you want to expand your listening base, you should do whatever is most helpful to your audience; you can bet they'll sign up for your service.
Also, they can replay the program and focus on the specific moments that pique their interest. Once again, this maximizes the listener's benefit, leading to increased satisfaction and, in turn, loyalty.
4. Full topic guide
The next step is to provide a complete breakdown of the episode's key topics and some explanatory context below the player. The article will be helpful even without the audio through a full topic guide.
Google users have a significantly better chance of discovering the show, skimming the content, and ultimately subscribing. Given the larger text search scope compared to podcast search, this is one of your best prospects for expansion.
You can include relevant links to resources discussed in the broadcast in that supplementary material. With this, the information you discuss in the recording may be quickly located by listeners.
They can return to this page whenever convenient to examine the entire document, refresh their memory, or cherry-pick specific sections to put into practice immediately. You can do much more to aid your audience with all this data conveniently laid out on the page.
5. Resources mentioned in the episode
Always including high-quality resource links in your show notes will increase the number of people who return to listen. Existing listeners frequently check the show notes to learn more about the product or item you mentioned before trying it out. Hence, it is helpful to have a compiled list of the most important ones either at the beginning or the end of the blog section.
What are some tips for properly formatting show notes?
Your podcast's original notes should be formatted and easy to understand because they'll be shown alongside your links similarly to how they appear on your site. You will greatly improve your listeners' experience by writing show notes for your podcast in a concise, scannable format. Typically, podcast players like Apple Podcasts, Stitcher, and Podbean will fetch program notes from a website via RSS.
Here are some tips when writing podcast show notes
The most important aspects of your podcast should be highlighted in bullet points.
Include timestamps so listeners can rewind to a certain point in the episode if they miss it the first time.
Make sure that any advertising connections are clearly labeled and in the show notes.
Make it clear to your audience that a link they're about to click is an affiliate link or commercial. Customers will have more faith in your recommendations if they sense that you value the things you're promoting.
Show notes for your podcast are a great resource, so it makes sense to use the same format for all of them. More material will be produced in less time. You can use these tips and the format listed above for your reference.
Conclusion
Nowadays, show notes are no longer optional. Though they require some time, you may be amazed at how much of the work is already being done by you.