Using topic clusters is a great tactic for winning over search engines and providing helpful content for your users.
The reason for this is straightforward: search engines give more weight to websites that have proven themselves to be authoritative resources on a certain subject.
Whether your website is brand new or has been operating for years, topic clusters are an essential part of optimizing your site's expertise, authoritativeness, and trust (E.A.T).
The search engine ranking system has recently undergone a radical change, moving away from a focus on keywords and toward a more holistic evaluation of a page's topical relevance.
The latest Helpful Content algorithm specifically highlights:
Are you producing lots of content on different topics in hopes that some of it might perform well in search results?

Did you decide to enter some niche topic area without any real expertise, but instead mainly because you thought you'd get search traffic?

Are you writing about things simply because they seem trending and not because you'd write about them otherwise for your existing audience?
This practically summarizes what you need to focus on. Google is telling you to "stay in your line," much like a topic cluster.
What is meant by topic clusters?
A topic cluster is essentially a hub page (pillar page) that connects to several other related pages (cluster content). The clustered material then references the central hub page. Related content within a cluster can be accessed via internal links.
Think of building a staircase. You need to know what material works with each other to provide stability and also provide access to the entrance.
Using a plastic material versus metal or wood might not make sense. Knowing each aspect of building a staircase will help you understand the structure, as well as provide a firm foundation that can last for a very long time.
A pillar page is a crucial page on your site that focuses on a broad keyword theme. A "pillar page" is one that is geared toward a broad keyword topic. Therefore, it will provide a broad overview of the subject and act as a central resource from which readers can access more specialized pieces.
The grouped content (or related articles) provides a deeper dive into a particular subject. It's common practice for content clusters to focus on long-tail keywords in order to answer very specific questions. Contents that are similar in tone or subject matter are grouped together in this format to form a topic cluster.
Why you should use topic clusters (from the user perspective)
The rule of thumb for creating content of any kind has always been (and will always be) to focus on the audience or user intent. The primary purpose is to connect the dots between the user's search query and the solution you provide.
To successfully implement your topic clustering method, you must first have a thorough understanding of the most common queries.
Using PPC as an illustration, your topic clusters might help address concerns like:
How much does it cost for each click in AdSense?
How much does it cost for each click on YouTube?
To what extent does PPC management involve?
Why you should use topic clusters (form business perspective)
When businesses started using this format for their content, they saw a huge uptick in conversions.
Hence, the introduction of topic clusters into the design of your website is now essential if you want to rank higher in searches involving specific keywords because of the way search has evolved.
How topic clustering affects search engine optimization
If done properly, topic clusters can have a major effect on SEO rankings. Websites that provide in-depth information on a specific topic tend to rise in search engine rankings and receive higher domain authority.
Hence, using topic clusters to comprehensively cover a subject improves your chances of attaining a high ranking, as Google's stated goal is to give results that match search intent.
Because of this, optimizing each page individually is becoming crucial. In fact, optimizing for user experience is now accepted as a must-have SEO tactic.
Use topic clusters immediately to increase traffic to your site. Remember that the more content there is on a site, the more important it is to have that content organized. In theory, the more content there is, the more ground it can cover. Just make sure that the information you put out there is relevant.
Clustering related ideas is an easy task. While it's true that catering to as many user intents as possible that are important to your brand might be a lot of work, a dedicated content marketer should be able to pull it off using the structure we've outlined above.
Pages that might not otherwise perform well in search engine results pages (SERPs) can benefit from increased visibility thanks to internal linking. Simply put, sites that have large, well-organized topic clusters tend to rank higher in search results.
Main points on topic clusters
Using topic clusters is not as difficult as it seems. Applying this principle requires the ability to organize and present multiple pieces of content based on a central theme and to establish connections between them.
Here are some points worth remembering.
We still need keywords even with topic clusters. In fact, they have forced marketers to rethink keyword research, expanding their focus beyond single terms to consider issues as a whole.
To create credibility, it is helpful to produce numerous pieces of high-quality material on a single topic. This may sound like stating the obvious, but providing material that covers all angles on the same issue will help humans and crawlers alike find your site as a valuable resource. That increases exposure, clicks, and sales.
Putting these ideas into practice is not hard. Although it will take some time to produce a number of pieces of long-form content, it is worth it as it promotes the authority of your page.
Why is it important to use topic clusters?
The secret to success these days is narrowing in on broad categories. Focus on specific keywords. This occurs for several main causes:
Google now provides personalized search results; it is more difficult to determine average keyword rankings.
Search engines have a better grasp of how ideas are connected semantically. They can now more accurately determine when different questions refer to the same concept. This means that material optimized for one keyword may also perform well for numerous closely related terms.
Google and other search engines care about people and want to give them reliable information. Producing high-quality is one method to establish your expertise in the eyes of both humans and search engines. Focus on a certain topic rather than posting random stuff.
In sum, this means that sites with a greater number of articles extensively covering a specific topic would typically rank higher in search results than sites with fewer, less authoritative articles.
Benefits of using topic clusters
Conceptual and organizational structure is improved by grouping related ideas and concepts into topic clusters. They lead readers (and search engines) to other articles inside the cluster, expanding their knowledge of the subject at hand. Here are some of the advantages or benefits of using topic clusters. Here are some benefits of using topic clusters.
Shows Expertise, Authority & Trust (E.A.T)
The depth of a website's content is a key factor in establishing its knowledge, authority, and trustworthiness. The user experiences a favorable chain of events after being linked to relevant items that they would have an inherent interest in.
Search engines can evaluate content for both its quality and its potential usefulness to the user. It is for this reason that E.A.T. carries so much weight in deciding a website's position on the search engine results page.
Enhances participation from the users
When people explore more of your site, it means they are interested in the subject matter. In this case, three facts must be considered: First, a higher percentage of people who click. Next, more trust and confidence in your business leads to a longer dwell time.
These first two are metrics tracking users' interaction, which improves rankings in the long run. Increases in traffic almost always result in an uptick in sales, inquiries, and overall business.
Educating your site's users is another benefit of developing a strong topic cluster. Customers' confidence in your brand will increase the number of times they make a purchase from your site. By catering to your customers' wants and requirements, you may earn their trust and boost your sales.
Produces a plan for keyword and content tactics that will work
Your keyword strategy and content strategy will become crystal clear as you go through the process of developing topic clusters.
To begin the process of developing a topic cluster, it is necessary to conduct extensive keyword research. Your content strategy can't get off the ground until you determine which keywords will bring in the most qualified visitors.
For effective planning, it's important to group related topics together into "topic clusters," which can then serve as a guide for how to structure your website around your most important keyword phrases.
How to structure and develop topic clusters
If your company has a large archive, selecting a topic to specialize in and developing cluster content plans can be intimidating, and auditing previous content can be plain traumatic. Today, we'd like to offer some tips for structuring and developing topic clusters.
Create a diagram showing the top five to ten issues faced by your ideal customer.
Gather information through surveys, in-person interviews, and online secondary sources.
Put the concerns into broad categories.
Use keyword analysis to generate additional subtopics that expand on each of the main ones.
Make a mind map of content concepts that fit under each main heading.
Every concept should be checked against existing market data and competitor offerings.
Build content, analyze its performance, and tweak as needed.
How to create your topic cluster
The process of compiling a list of keywords for which you'd like your site to be known can be done in a number of different ways, including using a spreadsheet, paper, or word processor. This preliminary list includes typically broad keyword suggestions for your pillar content.
The keywords should be thought of as containers, and the contents should be the types of information your site's visitors are interested in learning more about. Long-tail keywords are a great way to narrow your focus from broad keywords.
Asking the following questions is an excellent method to narrow down these possibilities:
Which inquiries do people usually have?
Which major problems do people have that my business can fix?
The attractiveness of your search phrases can be confirmed by looking into a variety of sources, which can contribute to your list of prospective keywords/articles.
1. Check the search engine results page (SERP)
The actual SERP is the ideal resource whenever you are thinking about a term or phrase to target. Try typing in your search query to see what Google suggests as a result that matches your intent.
You can expand your keyword list by categorizing terms that have a similar meaning into larger groups. The cluster would progress as you:
Consider autosuggest on Google
As you start typing a query into Google, the search engine will offer possible terms. Similar results can be found in the Search related to [your keyword] area at the page's footer.
Look at featured snippets
Because they increase click-through rates and exposure, featured snippets are always worth checking. In that case, you should either make adjustments to your content specifically for the featured snippet or write a completely other post covering the same ground.
Take note of "people also ask boxes"
Jot down any questions or phrases that appear in the "People Also Ask" box. Dozens more questions and phrases can be added to increase the page's relevance and provide more depth to your clustered material. Since Google has chosen to highlight these terms, there must be some interest in the featured information.
2. Use a keyword software
The time will come when you require the help of a keyword tool. Make sure that the terms you're considering do, in fact, create a sufficient amount of traffic. If not, a keyword tool might offer a wide variety of alternate terms.
Ahrefs, Moz, and SEMRush are the most widely used of these programs. Each of these resources can provide you with useful data about your chosen keywords and suggest related phrases. Simply enter your keyword into the relevant box to see a breakdown of the metrics that the search for it returns.
To explore more, select the suggested keywords and see what comes up. It's important to remember that there are many various methods to search for the same thing, even if you think your keyword is the most popular choice. It's possible that the way you're phrasing search phrases isn't the most common and that it's not even bringing in traffic that converts.
3. Create a list of final keywords to be used
It is now time to compile a list of keywords depending on search volume. Sort your keywords by their intended use and pick the ones that most effectively cover these four areas:
Your target audience's needs, volume meeting the strategy, competitiveness, and popularity.
4. Match keywords with already-published content
Choosing a set of keywords that best describes your topic cluster will serve as its blueprint. Your keyword cluster, where each phrase stands for an article, is a concrete plan for your content strategy.
Your next step should be to map already existing content to each of your keywords in order to satisfy the search intent behind each of your keywords.
If you want an honest evaluation of your content, you should export your site's pages and posts to a spreadsheet. You should give every page and every post a keyword to focus on. Make new SEO content for the keywords that are still in your cluster but haven't been given any specific content to go along with them.
5. Publish better and optimized content
Put the remaining keywords that matter most to your site at the forefront of your content planning. Make sure that all of the material you publish on the first page of Google for your clustered keywords is ten times better than anything else out there.
6. Review your competitor's data
You can learn a lot about how questions are answered in search results by studying your competitors. In order to compete with the other sites vying for a spot in Google's top ten results, you need to figure out how to make your site seem better and have better content than the sites currently there.
Determine the type of content
In order to rise above the competition, you will likely need to adopt a similar tone in your own content. Finding out what kind of content websites are employing to rank is the first important clue. Pay close attention to the top five sites and see any patterns they may share.
The goal should be to impart useful information to your readers while also convincing them. Apply sound reasoning supported by data and the words of experts. Hence, a better understanding of the subject matter is a key factor in increasing conversions.
7. Conduct a content gap analysis
It's crucial to cover the same ground as the top-performing material your competitors have produced. Looking at the keywords for which their page ranks highly on the first page of Google can reveal the algorithmic rationale behind that result.
Conduct a keyword analysis of the competition using the tool of your choice. Locate high-ranking keywords that guide you to articles that effectively meet user expectations.
8. Make an outline of key points
To give your article some form and structure, draft an outline. Put your primary keywords in the beginning, middle, and end of your content, as well as any subheadings that may be relevant.
9. Create scannable content
Keep in mind that the vast majority of internet readers will only skim your post rather than read it in its entirety. If you take the time to create an outline, you can rest assured that even casual readers will be able to get the gist of what you have written.
Your subtitles need to be descriptive as well as search engine optimized. Create engaging headlines and subheadings for your content to keep readers interested.
10. Have an internal linking strategy in clustering content
Here's the thing. If you can't link your article to another one, chances are they are not related. So, if you plan on creating content and can't find any connection with other articles that you've written previously, think it over.
Through the organization of similar subjects around a central theme, topic clusters enhance both user experience and comprehension. Link related articles together using anchor text so that readers may easily move from one topic to the next.
Place links with optimized anchor text where it makes sense. If you have a large number of internal links to create, you should use a variety of anchor text, including long-tail keywords.
Your subject cluster won't stay together without a sound internal linking strategy. You should have internal links from all of the subpages that make up each cluster to eventually lead back to this primary "pillar" page.
Connected resources will be accessible via external links on the pillar page. If it makes sense and flows naturally, you can also integrate interlinked clusters of content.
The significance of your topic is indicated by the volume of inbound links to your pillar page. Your topic will receive more exposure in searches relevant to your keywords thanks to the interlinking approach, which increases link equity.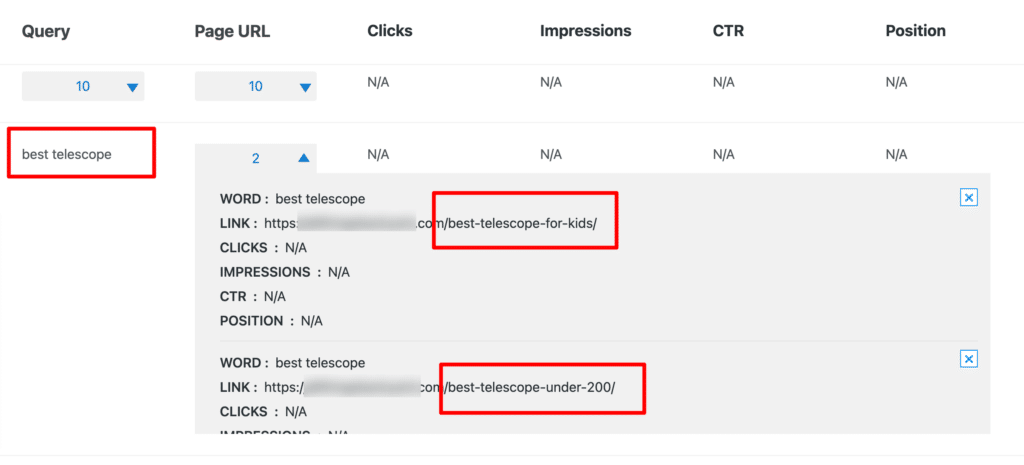 The screenshot above showcases Linkilo link cannibalization. When you focus on topic clusters, you might come across keywords that belong to the primary article versus a secondary one. Without auditing your links, you might use the same anchor text for two different articles, which can cause a bit of confusion for search engines to determine which article it should rank you for.
You might also come across and not realize that two of your articles might be ranking for the same keyword, and you would want to combine them together instead of competing your two articles for the same keywords. You can check which keywords you are already ranking for and which keywords are being cannibalized:
11. Monitor your traffic results
If you want to boost your website's effectiveness in any area, you must first track its current stats. Google Analytics lets you create groupings of pages to analyze their collective performance rather than that of their individual components.
Pick a method for organizing your pages (tracking code, extraction, or by a rule set). Analytics Help contains additional information on how each approach is implemented.
In order to do this, first, access Analytics; next, go to the admin menu. After that, choose Content Grouping from the column on the far right. Lastly, select "New Group."
Common mistakes when doing topic cluster
Two common mistakes when constructing subject clusters are either having too much content or having isolated content.
Content siloing or doing isolated content
In order to focus on relevancy, some search engine optimizers will purposefully avoid linking across related subject clusters. The issue with this approach is that it misses out on opportunities to gain PageRank and context from internal links.
Furthermore, there is no such thing as a standalone topic. Google can better grasp the connections between different clusters thanks to the information provided by seemingly unrelated topics.
Content overload (too much content)
Additionally, you should stay away from content overload. This occurs when search engine optimizers produce an excessive number of blog entries that use extremely similar keyword phrases.
They might, for instance, center a pillar page on the concept of email marketing. In other words, articles might all concentrate on one broad topic. This phenomenon, known as "keyword cannibalization," occurs when two or more pages compete for the same set of keywords.
Always create cluster pages around distinct search phrases with a wide range of search intentions to protect against content flooding. If you're not sure whether or not your keywords stand out from other terms in your cluster, try Googling them to compare the search results.
Conclusion
Creating high-quality content that directly addresses user needs yields sustainable outcomes. However, doing valuable content assets takes time, and there is no easy way to bypass this.
Subject clusters increase search exposure, which is why they are widely used by SEO and content marketing organizations. Increased rankings and traffic can be attained, as well as increased click-through rates and time spent on a page, with a well-developed topic cluster.