Although there are numerous website engagement metrics to monitor, one of the most useful is "pages per session." Here's what it means and how you can improve it.
When you spend money and time attracting new people to your website, you want to do your best to keep them coming back.
Depending on the site, this may include reading a few articles, purchasing a product, or signing up for a newsletter.
Tracking site engagement is critical in all of these situations. Pages per session are one metric that can be useful.
What are Sessions?
Before we get into Pages Per Session, it's important to understand a session. A session is a set of activities on your website during a specific period for a single user. A session, for example, could include a variety of Page Views and goal completions, as shown in the image below:
Sessions and clicks are not the same things. If you're not familiar with the differences, we've summarized them below:
Multiple ad clicks can lead to multiple clicks, while a single session is time-based.
A user who returns to your site directly (via a bookmark, for instance) after clicking on an ad would frequently result in several sessions but just one click.
If a page does not load correctly after an ad click, you can not see a recorded session in which a click occurs.
Invalid clicks are deleted from click records but remain in sessions.
What are pages per session?
Pages per session refer to the total number of pages a user sees during a session. This metric is determined by dividing the total number of sessions by the number of page views.
This metric will assist in determining how sticky and engaging your site is. In principle, any content site that generates revenue from Adsense, advertising, or affiliate links needs to increase the number of web pages each user sees. More visitors and time spent on the website's pages equals more sales.
For context, if your website has a page per session average of three, this means that the average user visits three sites before leaving your website.
One of online retail's primary goals (and obstacles) is to offer customers as many options as they need to make a buying decision. A lot depends on the target demographic, product type, and stage of the customer's journey, but the more products we see, the more probable we are to locate what we're looking for.
How many pages per session is okay?
According to Littledata, which examined 3,698 sites, the average number of pages per session ranges from 1.8 to 4.4. If you get more than 4.4, your website is in the top 20% of all websites in their report. If it is less than 1.4, you are burning your advertising money.
However, as previously mentioned, the importance and priorities of pages per session vary depending on the industry. If you have online media, the more people who visit your sites, the more ads they encounter, and the more money you make. This metric is pointless if you have a single-page website.
In terms of e-commerce, the following are some benchmarks from SimilarWeb for 2020:
The average number of pages per visit – is 5.6
Average visit duration – 3m 56s
Average bounce rate – 47.28%
Compared to 2019, the trend is declining, making this metric even more significant. People's attention spans seem to be getting shorter and shorter, so you must build a one-of-a-kind shopping experience to conquer their hearts and wallets.
How many pages per session is bad?
A Page per session of less than 1.8 would place you in the bottom 20% of sites, and less than 1.4 would place you in the bottom 20% of sites.
Is your website getting under 1.8 pages per session?
Can you enhance the navigation or page layout to keep visitors on your site longer? Consider rethinking the customer journey. We expect a much lower average if this is a single-page application where much activity occurs without reloading a page.
How do you track the number of pages per session?
You can find your website's average pages per session in Google Analytics' Acquisition>>Overview>>Channels Report. You can see this in the left sidebar.
You will see an overview of the total pages per session for your overall website here.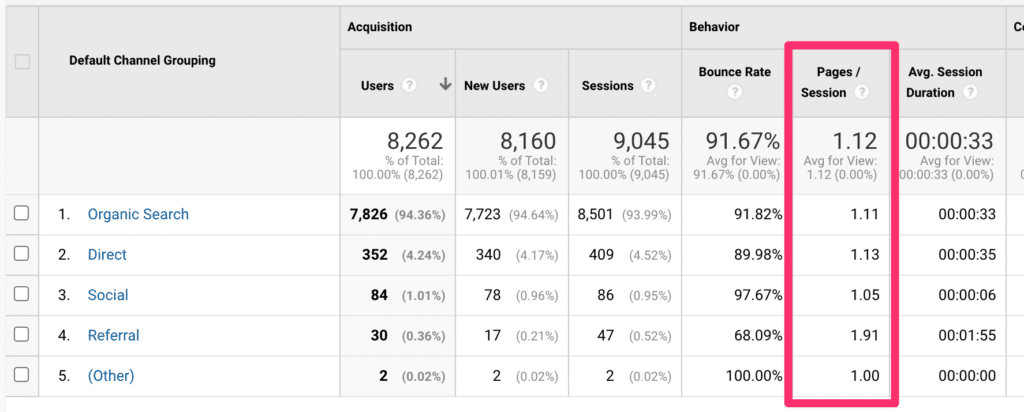 Do you want to go any further into this metric? In addition, you can see the average number of pages per session for each channel, medium, source, and referral. This will allow you to determine which traffic sources bring in the most active users.
You will find the pages per session for each of your main acquisition channels. This lets you identify which channels bring more engaged users to your website.
Methods for increasing pages per session
So, how can you raise your pages per session after all of that?
We polled hundreds of marketers to determine the most effective and beneficial methods.
1. Conduct customer feedback analysis.
Collect reviews from your target audience. Requesting a review is a simple way to rectify costly errors that affect our page per session metrics. It never hurts, to be honest with customers, and it's almost easy. Most businesses, however, struggle to capitalize on the power of surveys, believing it to be a cheap and sly tactic.
On the other hand, your visitors appreciate this practice because it shows that you took the time to understand their point of view on the subject.
2. Know your intended audience
Creating content important to your target audience is an effective way of increasing your average pages per session. There seem to be no particular shortcuts here. If you create high-quality content, your pages per session and conversions will spike!
Interlinking content articles or indicating what the user should do next is the key to increasing average pages per session.
3. Map out a user journey map.
Designing a user experience through your website is important to increase the average number of pages per session. Figure out what page should follow each landing page, then make the next move extremely obvious. Specific call-to-action text, conspicuous CTA buttons, simple navigation, and internal linking are all recommended.
4. Increase the interactivity and engagement of your pages.
Interactive web pages are very good at increasing the average number of pages per session. Customers can spend more time on your website and navigate pages if you have CTAs, in-text internal linking, downloadable content, videos, and some design magic.
5. Concentrate on user experience and navigation
The easiest way to increase pages per session is to significantly improve navigation and integrate it into the site–not just in the main menu. Use sidebars, grouping-related content, and hyperlinks within the body for immediate changes.
After that, select 3-5 pages you want visitors to see each time they visit your site. This may be a booking page or your mission statement, but once identified, these should be visible on your site and not only in the main menu. You will immediately see an increase in the number of pages viewed per session!
6. Have a list of related posts at the bottom of each blog post.
WordPress sites automatically do this, but it's also a good idea to manually add posts to related posts listing to draw attention to previous posts that could benefit from it.
7. Keep a simple web design.
Websites with high-tech and animated interfaces are more prone to lag and necessitate a more stable and robust internet connection to work properly. Visitors who cannot navigate your website would have a lower page per session rate because they are frustrated by their computer's slow loading.
8. Create a content hub
Creating content hubs and linking to different sites from each page in the content hub is the easiest and most efficient way to increase the average page views on my blogs.
9. Build content clusters
Each article should be thoroughly covered on its own.
Adopting this strategy will help you establish yourself as an authoritative figure with extensive knowledge of the topic. Furthermore, since the pages are all about the same thing, you can link them internally. Users will navigate from page to page through internal links to fully comprehend the pillar content. This effectively raises your total number of pages per session, thus raising your SERP ranking."
10. Choose the relevant keywords
There are numerous technical, formatting, and User interface optimization measures that can be taken to increase the number of pages per session and minimize bounce rate. However, the relevancy (or irrelevancy) of the content you serve visitors is at the heart of low page per session and bounce rates.
11. Make use of SEO auditing tools.
The threshold for a site with a good page per session is 4.4, which indicates that the site is almost certain to transact or engage with your content. To be among the best, I ensure my website has engaging content every time. To ensure this, I create high-quality, SEO-optimized blog content.
Using plugins like Yoast or Rank Math for WordPress can help you check off some of the actual items that most make content successful.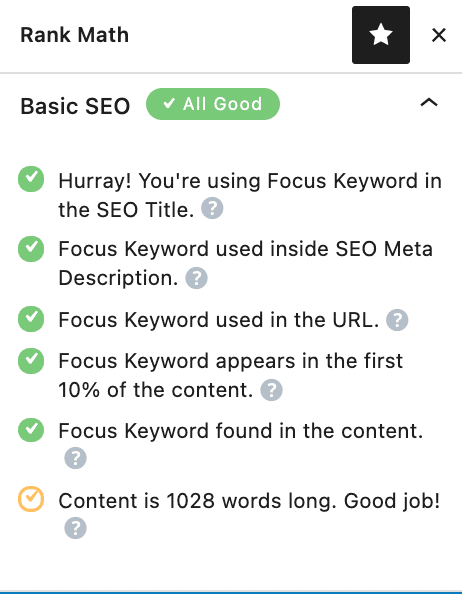 If the content has too much of the same word, it can be spammy, etc. The idea is to not just base your content by checking all the boxes off but use it to measure and track your content performance.
12. Make use of the Skyscraper Method
Including links to similar content on your web inside the body of your posts is a great strategy for increasing average pages per session. This can appear as Skyscraper content that links to different sections of your web, or it can link to other blog articles within the same box of content. Many visitors could use these links to get more information on various topics of interest.
13. Include several articles on the same topic.
Adding the inline related articles section or an anchor text to help your readers is one powerful way we have effectively increased the average pages per session. This will take the reader straight to the next related article. Or if they did end up in your article and it's not what they were looking for, you can refer to other others that might help them.
Anchor text example:
Inline related post example:
14 Create engaging content
The best approach is to make truly helpful content. If users enjoy your content and see you as a resource, they would be more likely to remain on your site for reasons other than their immediate needs.
This isn't a fast fix like running a campaign or internal linking, but it can be more effective over time.
15. Create eye-catching headlines
Add beautiful graphics inside your blog posts with eye-catchy headlines, and if anyone clicks on those, they will be led to another blog post on your website. This benefits your readers because they no longer have to navigate your entire website to get relevant content. It also helps you in the long haul because your readers are now staying on your website for longer periods."
16. Make your readers want to learn more.
When writing a blog post, always include a pitch for another of your blog posts on a similar topic and a link to that related blog post. As a result, readers who enjoyed your first post would inevitably move on to reading a second post, increasing average page views.
To retain and engage your website visitors, you should end your posts with a pitch to see one of your product pages. This is a very easy tip. It can result in significantly higher average page views and stay time when implemented correctly, resulting in higher conversions and better search engine rankings.
17. Make downloadable content available.
The more time your visitors spend, the more likely they will sign up for a service or buy a product. One way to accomplish this is to have some excellent downloadable content. Case Studies and White Pages can provide very informative, topic-specific knowledge that is incredibly useful. It should also entice them to explore your website further and take advantage of the additional information you offer.
18. Add redirect links
I suggest adding links that guide your readers to other content on your site to increase the average number of pages per session. However, make sure to insert the links naturally that bring additional information to the content they are reading. For example, an eCommerce website can include links to customer reviews, related products, etc.
19. Make sure the pages load quickly.
A reader will enjoy navigating and bookmarking a site that loads quickly, is easy to navigate, and has great content. It doesn't take much site navigation to determine whether pages would take a long time to load. If a visitor thinks he'll be waiting for the next page to load, he'll be less likely to hang around.
20. Disable third-party cookies
According to Tiffany Johnson of Wunderman Thompson, "the most powerful way to increase average pages per session is to prevent third-party cookies on your site." "When a user visits a website, the first pop-up is a regular cookie agreement. You lose half of your traffic as they attempt to fill out the consent form. People will remain if you make things easier and more transparent."