Internal linking is a great way to increase the prominence of your content on your website, and it's also a great way to improve your SEO.
What is internal linking?
It links from one page on your website to another. It makes it easier for search engines to find your content, and it also makes it easier for visitors to find what they're looking for on your site.
So how do you do it?
There are several ways to interlink your blog posts in WordPress, and in this guide, I will offer all the greatest plugins you can use immediately.
Most of the solutions listed here are free, except for a few premium solutions I use for all my blogs.
Why should you add internal links?
Here are the five reasons why you should include internal links. But first, let's take a closer look.
Crawling and Indexing
Interlinking allows search engine bots to crawl and index your articles successfully. Search engine bots love to crawl, and they do it through links. Once they discover a page, it goes through all the content and links, crawls the links, their content, and so forth.
So if you want your content to be discovered, crawled, and indexed, you'll want to link your pages together.
Context for Google
It gives Google a better idea of what your pages are about. Here's a quote from John Mueller:
"I don't think we do anything special to the length of words in the anchor text. But rather, we use this anchor text as a way to provide extra context for the individual pages.

Sometimes if you have a longer anchor text that gives us a little bit more information. Sometimes it's kind of like just a collection of different keywords."
User Experience
Before delving into the SEO features of internal links, it's critical to consider how internal links contribute to a better user experience.
Linking to relevant sites in your article can assist the user in finding the information they need.
As a result, the user has a better experience because they no longer have to look around.
Lower bounce rate
Internal links play a significant role in lowering the bounce rate. An internal link encourages users to stay on your site for more extended periods, resulting in a lower bounce rate.
Retaining users on your website for an extended period improves your rankings.
Pass link juice
"The amount of internal links leading to a website provides a signal to search engines about the relative relevance of that page,"

According to Google.
I think InLinks said it the best, "a link is frequently considered a mechanism to transfer SEO energy between two pages."
In other words, internal links assist Google in determining the significance of a page. Internal linking allows you to boost a page's ranking in search engines.
Free internal link plugin vs. Premium
Premium plugins will provide you with more features than free plugins. Premium plugins always have one or more distinct and advanced features than free plugins since the more you invest, the more you get.
But don't worry because free plugins are far superior to paid plugins, especially if you're starting. You just have to be willing to work around it. Whereas a premium plugin does things for you in most cases.
Best Internal Linking WordPress Plugins
Here are the best internal linking plugin, free and or paid WordPress plugins:
1. Linkilo – Paid
It wouldn't be right if we didn't mention our plugin. So if you want an easy summary of what Linkilo does, imagine all of the plugins I've mentioned here and combine them into ours.
It's the best internal linking plugin for WordPress you can buy. Unfortunately, this plugin has no free version, but it has many features.
A few highlights are:
Keyword cannibalization: It shows you exactly what pages are cannibalized and what links you've used. If you used the "best internal linking plugin" for this article and the same keyword on a landing pay, let's say we will let you know that you've used that keyword for different pages.
It also shows you if the keyword is being indexed and if you're ranking for that keyword.
Link cannibalization: Keyword cannibalization shows you what keyword is being cannibalized via search engines. Link cannibalization is when you might have used the exact anchor text for two or more different pages. For example, you might have used the exact anchor text for different URLs when building internal links.
Here is an example of the best telescope for kids and the best telescope under $200; both have used the "best telescope." To prevent confusion for search engines, you would want to use one of the URLs for that anchor text and point the other URL to a different anchor text: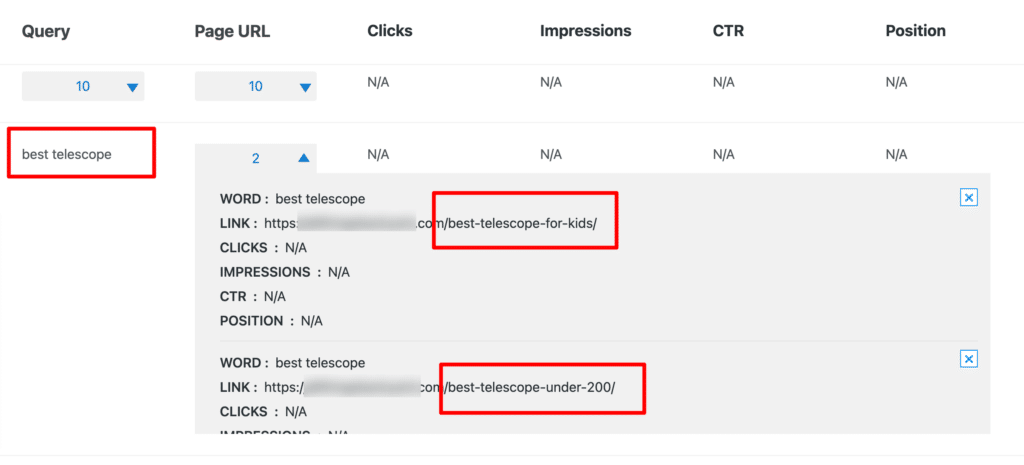 Auto linking: Our auto-linking tool is a popular feature, and most plugins mentioned here have some automation; you can review our video tutorial here. Before you insert any links automatically, you can review them to determine whether that is the best place to an internal link.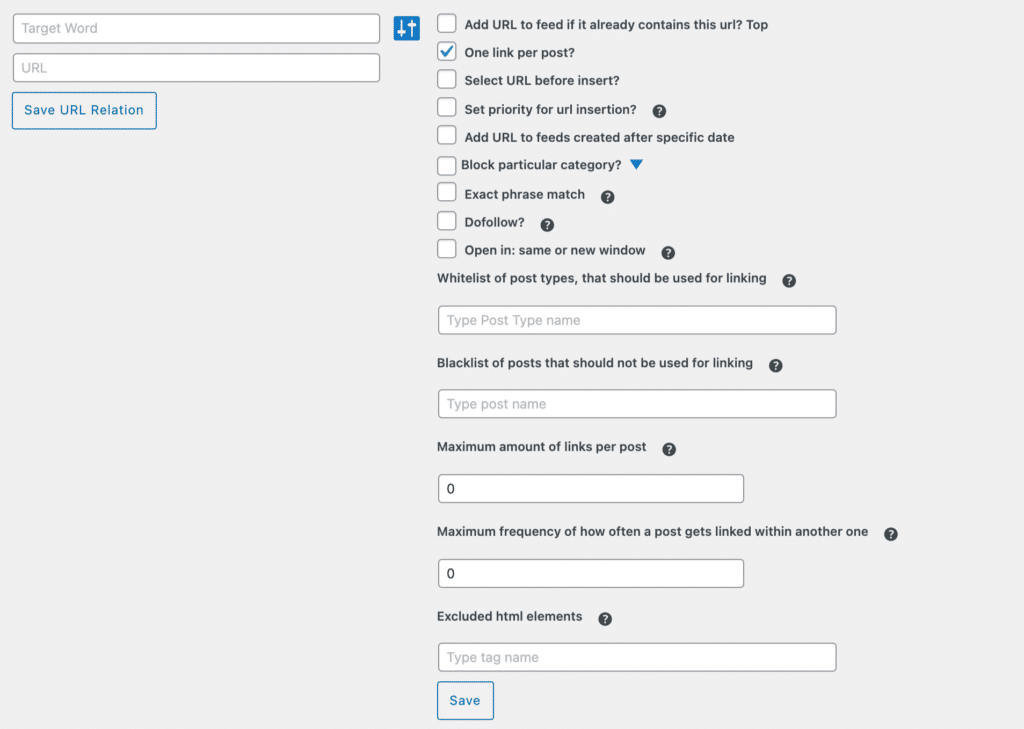 Link Analysis: Knowing which links you've added and if it's a nofollow or follow link can be a painstaking task. You can quickly review your links from the article, and if you want to add a nofollow, follow, or remove it, you can check the box.
Anchor text analysis: Maybe you're trying to rank for "best internal linking plugin," but it's plateaued. You can review how often you've used that anchor text to determine if you should add more. Or, if you added too many and your ranking hasn't improved, you can easily remove some of them.
Here is an example of how many times I've used the anchor text "French Press" or "coffee beans" with our anchor text analysis tool:
New features are being created and are not just about internal linking. Linkilo is going beyond that. Our focus is to provide a whole link management system. Where you can find broken links, alert if you have one. Track links with analytics, shorten URLs, and much more.
Try our plugin today if you're ready to boost your WordPress site. We'll guarantee a 30-day money-back.
We are convinced that you will find Linkilo a significant time-saver and aid in improving your site's internal linking structure.
2. WordPress default – Free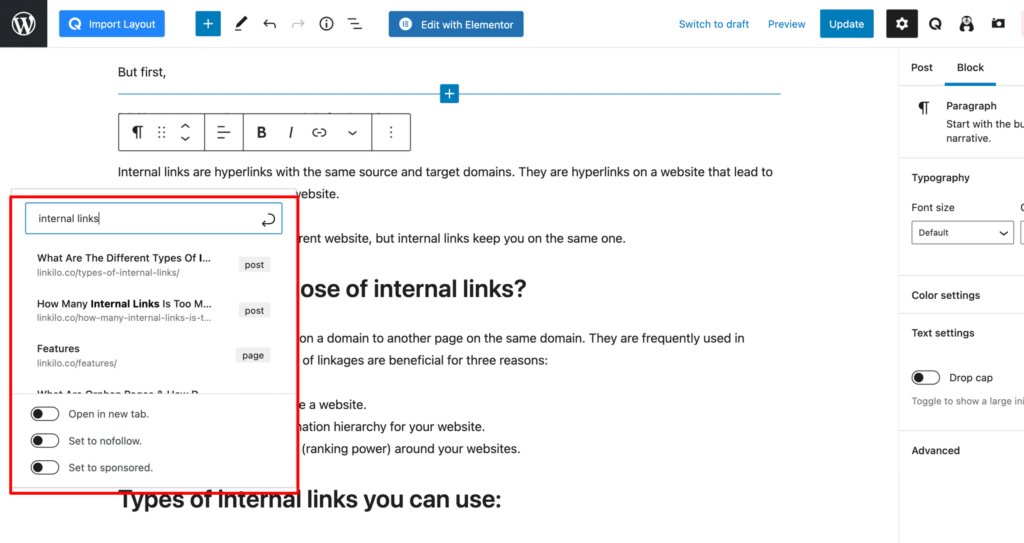 WordPress also includes a built-in tool that allows you to interlink your blog entries swiftly. You can manually enter links from within the WordPress Gutenberg editor; for example, when you select a text and click the hyperlink to add a link, you may search for your published post and directly link to it.
This is a useful built-in feature of WordPress. It does not, however, find pages that have no internal; you will just need to figure out using SEO audit tools to identify whether a page has any internal links.
3. Internal Link Juicer – Both

Internal Link Juicer is a fantastic auto-internal linking WordPress plugin. It is an open-source WordPress plugin with many handy features for controlling internal links. Using this WordPress plugin, you don't have to link your pages whenever you make a new article manually.
However, links will be generated automatically once all the keywords have been entered. And it's not a good internal linking practice to add links to every keyword on your website. It's a very customizable WordPress plugin. Manual optimization is also supported, but only in the pro version. On the other hand, the free version comes with a slew of useful features and functionalities.
This plugin is available in both free and premium editions. If you don't want to spend money, the free version is pretty good; however, the premium versions give a few more complex options to improve SEO.
The basic version is packed with features and is very customizable. However, their Pro edition has many more sophisticated features, like Linkilo:
Taxonomies enabled: Allows connections from and to category and tag pages. This covers 100% of your internal links.
Customizable targeted links: Link to internal and external pages not handled by WordPress using custom link targets. This allows you to link to affiliate links quickly.
Manual optimization is supported: With the Pro version, you may consider your manually constructed links and omit them from automated linking on impacted sites.
Auto keyword import: Import keywords for your assets in bulk from internal resources such as posts or term titles. If you have Yoast SEO or RankMath installed, you can additionally import previously selected "focus keywords."
Statistics for professionals: Make the most of your optimization process. A comprehensive and unrestricted link detail view provides deep insights.
Create a silo structure: Easily create a link silo by limiting automated linkages between entries in the same category.
Roles access for teams: You may provide your editors access to the Internal Link Juicer through role-based access to keyword configuration.
Full support: Their team will provide you with prioritized premium email support.
4. Internal Links Manager – Free
Internal Links Manager allows you to create links to a particular URL automatically. This plugin is straightforward to use. All you need to do is enter a term and a URL.
The term will automatically connect to the supplied URL whenever it appears on your website. That implies you won't have to put much effort into creating significant links for your WordPress website.
Even inexperienced users will have no trouble using this plugin. Internal linking is an essential component of website construction, and you can easily take advantage of this feature to provide your users with high-quality material on your WordPress website.
5. Link Whisper – Both Free & Paid
Link Whisper is the most sophisticated interlinking WordPress plugin on the market and one of the best internal linking plugins. The plugin's brilliance is that once installed, it will scan all of your WordPress websites and begin recommending phrases for you to connect to.
Link Whisper Free makes it simple to create internal linking in WordPress. With this WordPress plugin, you will quickly and easily add significant internal connections to your website.
Of course, when you use a WordPress plugin on your website, you want something extraordinary to happen to your site while minimizing your effort. Similarly, the Link Whisper Free WordPress plugin provides many useful features that can make internal connecting a breeze.
What are the cons of using Link Whisper? You can review Linkilo vs Link Whisper comparison chart here. But let me tell you a few things they are lacking.
There are no Rel=Tag reports
These days, rel tags are incredibly significant, and even Google has emphasized the value of NoFollow, DoFollow, and Sponsored tags. It would have been ideal if they had included a Rel Tag updates option, allowing you to mass change your NoFollow links to Sponsored links.
Does not provide in-depth link reporting
While it has a few link summary reports like orphan pages and how many links you have used, it's not a full link report like Linkilo. Most of the time, we do not have time to memorize which anchor text we've used in the past for one of the articles and use it for another.
This can cause quite a confusion to search engines. Knowing what anchor text has been used, where, and how often is as important as providing link suggestions.
It produces irrelevant results
The issue with Link Whisper is that it also returns irrelevant results. Approximately four out of ten findings would be meaningful. So you should be aware of which ones to include.
6. Internal Link Building – Free
Internal Link WordPress plugin allows you to effortlessly and usefully connect to your articles, whether fresh or old, pages or other websites, to boost your overall rating. However, it has not been tested for the latest three major WordPress updates.
As a result, it is no longer very trustworthy, but given its characteristics, it deserves mention on our list. It does not allow you to wander about and manually determine which internal links to employ in your WordPress website.
Instead, it allows you to attach keywords to specific URLs. As a result, everything becomes more straightforward.
Here are a few good things about this plugin.
This plugin allows you to upload keywords in bulk. So all you have to do is create a CSV file in Excel, copy-paste it into the mass-upload box in your admin panel, and click upload! This is ideal for larger sites that wish to target numerous keywords at the same time.
It is entirely up to you whether or not you construct a case related to your links. Check the "Exact Match" checkbox to have it only match when the case matches what you put into the admin panel. Leave it unchecked if you want all instances to link to your chosen page.
Overrides for globally specified keywords at the post level.
Link to sources or affiliate sites that you frequently mention.
Create internal connections to frequently visited pages automatically.
Make a nofollow link. For example, if you often link to specific Wikipedia sites, make the nofollow setting automatic.
Connect several keywords to a single URL. Target all of the keywords on a page at once! Simply insert a space, a pipe (e.g.,), then another space between the numerous keywords. For example, affiliate marketing.
Select the number of times a term will connect to a certain URL. You can use the phrase social media just once to connect to your social media category. Because I have that term designated to link to the same page, social is linked next.
7. Keywords to Links Converter – Both
Keywords to Links Converter makes it simple to link your keywords. Having a plugin installed on your WordPress website makes it simple to manage various tasks. This is similar to Link Juicer and Linkilo's auto-linking feature. When you add a keyword associated with a URL, it will find the keyword and add those links.
While automating link insertion might be easy to implement, it comes at a cost. Even their screenshot example shows a link for iPhone and iPhone 6. If you have an iPhone 6 article, you would prefer to link that article instead of a normal iPhone article. It's not really a "smart" way to automatically link keyword that appears on your website.
Installing the Keyword to Links Converter on your website allows you to easily handle tasks like adding internal links in your posts and controlling your target keywords. It is available in both a free and a premium edition.
8. Rank Math – Free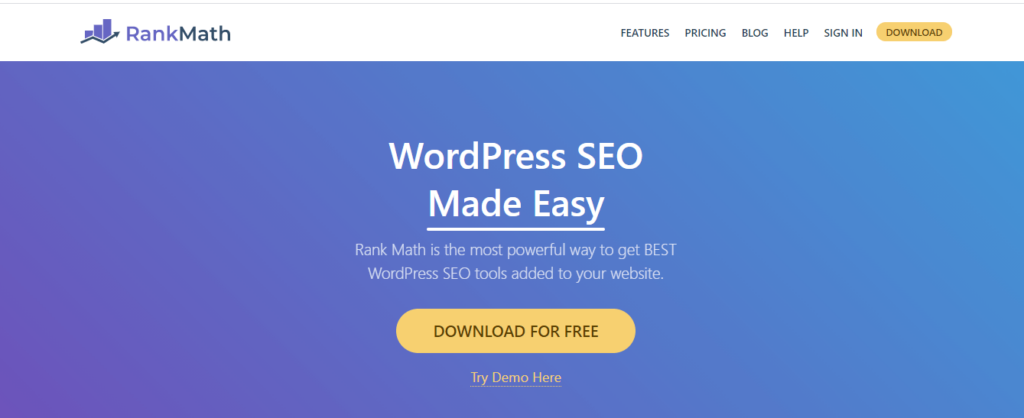 In a short time, Rank Math has already established itself as the finest SEO plugin for WordPress.
Rank Math is one of the best plugins for improving SEO and ranking higher in search engines. It also provides automated link ideas and scans posts while writing to suggest links to other posts on your website, facilitating linking for your WordPress.
As you write, Rank Math analyses your post and offers additional posts on your website for internal linking. This facilitates internal connectivity.
On the right side of the editor, look for 'Link Suggestions.'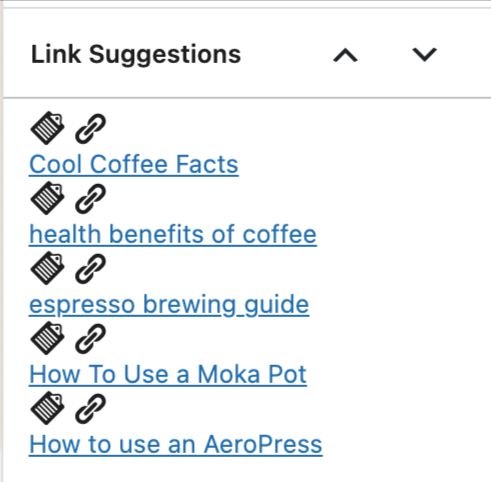 However, you will need to select the link and paste it to whichever text you want to link to.
9. Yoast SEO – Paid
While Rank Math is growing, Yoast SEO is WordPress's most popular SEO plugin.
Yoast has an internal linking option and its standard capabilities to help your SEO.
Yoast SEO swiftly evaluates the content to ensure proper usage of all tags relevant to the post's keyword. It also evaluates the length of the meta descriptions to see if they are adequate.
The plugin analyzes the text of your work and provides link suggestions as you write with this functionality. This is quite similar to the functionality of Rank Math's Link Suggestions.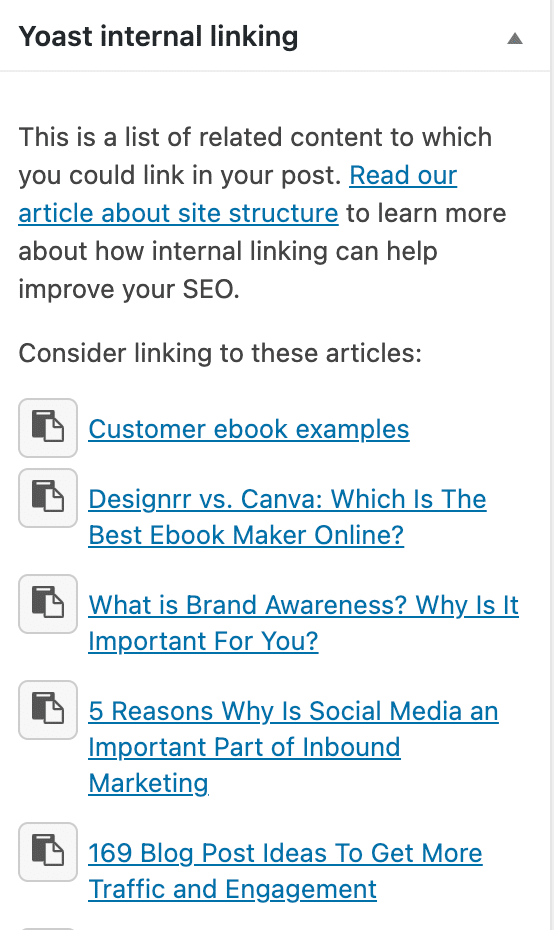 However, the link suggestion feature is only available in the premium plugin, which costs about $89 for a single site license.
10. Interlinks Manager – Paid
Interlinks Manager is a WordPress plugin that provides a series of tools to assist you in creating internal links on your website.
You may use this plugin to analyze your internal links and discover the number of internal links on your website, the number of visits generated by internal links, and more.
You can also use the plugin to compute the link juice for each URL.
Interlinks Manager displays information on the number of clicks on internal links, allowing you to analyze how well your links perform. The data is available in CSV format for easy analysis, sharing, and printing.
It's as simple as that. As a result, the internal links manager enables you to create internal links quickly.
The plugin will cost you $33 yearly for a single site license, plus $6 months of customer assistance.
11. Inline Related Posts – Both
After reading a post, a reader may become disinterested in your site and leave to visit another. Inline Related Posts automatically pushes related posts into your content, preventing your readers from leaving your site.
Major newspapers such as The Wall Street Journal, Entrepreneur, BBC, Financial Times, Business Trader, and others have previously overcome this problem by incorporating related posts within the story. It's now up to you to implement it with the Inline Related Posts plugin.
Furthermore, this plugin has a robust algorithm that recognizes grammatical rules inside your post content and inserts appropriate boxes while avoiding content breaks. You won't have to do anything since Inline Related Posts will automatically insert boxes into your articles.
It is available for both free premium plugins, which cost about $47 for a single site license per year.
12. Autolinks Manager Pro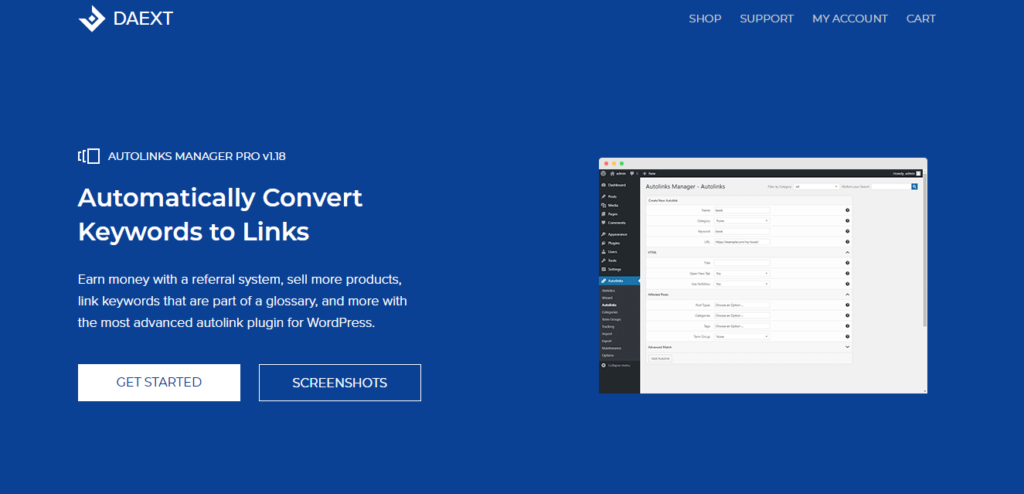 Autolinks Manager Pro (ALMP) is a premium WordPress plugin allowing you to add internal links to your blog posts automatically. It is a beginner-friendly plugin that's built for speed and convenience.
Danilo Andreini, the founder of DAEXT, created and maintains ALMP (Danilo Andreini Extensions)
You can use Autolinks Manager Pro to automatically:
create internal links with defined anchor text;
add outbound links; add affiliate links;
remove bulk-added links;
track which links are clicked;
Works with custom post types in WordPress.
And much more.
The plugin is lightweight, has little influence on site speed, and decreases your internal linking workload by 99 percent. However, there are no internal link suggestions within the post editor.
ALMP is sold in the form of licenses:
Personal- one website ($29/year); business- three websites ($49/year); developer- ten websites ($119/year).
Which one should you use?
If you decide which plugin has the best internal features, I recommend using the Linkilo plugin for WordPress internal linking. As I previously stated, Linkilo is the most powerful WordPress plugin when it comes to increasing visits to your website.
Aside from that, Interlinks Manager is a fantastic connecting plugin that will provide you with better service than others. This plugin saves you a lot of time by automatically working on the links and texts to improve the SEO ratings without bothering you.
You may also select others. However, if you are considering investing in plugins, it is best to utilize Linkilo. It does more than Link Whisper, the best plugin before our creation.
Conclusion
I'm sure you're aware of the best WordPress internal linking plugins by this point. However, you can build your website if internal linking is done correctly. Internal linkages play a significant significance even for search engines.
In addition, internal links serve as a road map for non-indexed pages. The main goal of integrating internal linking is to create a logical connection with the page to which you link.